Those who could afford it would have their clothes made by a local tailor specially for them. The poorer people would buy them second hand or alter clothes handed down to them.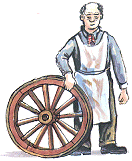 Sometimes they made their own.
In Victorian times goods were carried around in carts of all kinds and much local travel was done in a coach or trap.
All of these depended on the skills of the wheelwright who made the cartwheels out of wood, often with iron rims.
Wheelwrights were much in demand and were to be found right across the area. In 1841 there were six wheelwrights in Llanrhaeadr-ym-Mochnant parish alone.