This Log Book entry reads -
"The girls commenced their knitting of cuffs and strips for Inspection. They also had lessons in darning and cutting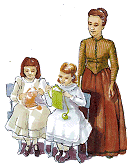 out. The boys commenced drawing in books".
In Victorian times very few jobs were open to girls, and many would become household servants in the big houses of the wealthy 'gentry' in the district. The sewing lessons were necessary for many of these jobs, and they also helped to prepare them for looking after their own homes and families.
Back to Llanfyllin schools menu