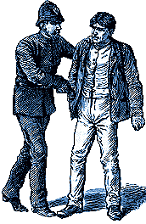 This extract from the court records shows Mr Morgan's statement. It reads:
"I am a builder living in the town of Llanfair. I know Robert Jones the accused. On the 18th of July last I gave him seven shillings and sixpence and told him to pay it to John Williams of Pontrobert who had done some work for me".
Instead of passing on the money to John Williams the servant kept it, and gave Mr Morgan a signed receipt which he had forged. Once Mr Morgan discovered that John Williams had never received the money he sent for the police.
When the case came to court, Robert Jones wisely pleaded guilty. For stealing 37p he was sent to gaol for 3 months with hard labour. This would probably have meant breaking rocks all day with a sledge hammer.
This seems a harsh punishment to us today, but the wealthier Victorians wanted to be able to trust their servants.
Being strict with those who stole from them was a way of warning others to be trustworthy.
.