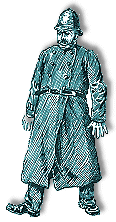 In 1856 the government introduced a law which forced counties to set up proper police forces. The Breconshire Constabulary was formed the following year.
It was a hard life being a policeman in Victorian Breconshire. The constables worked seven days a week, and between 10 and 12 hours per day. They had to patrol a large area on foot and didn't even get their boots paid for until 1873.
At least the police at Crickhowell and Brynmawr had colleagues they could call on if things got rough. The constable at Gilwern had to cope with things on his own. There was no calling for back up in Victorian times !
Back to Crickhowell crime menu
The authorities realised that policing the fast growing communities of the Clydach valley would need more policemen than the quieter rural areas.
While a sergeant and a constable were based at Crickhowell, Brynmawr had a superintendent, a sergeant and 2 constables. Another constable was based at Gilwern.
The superintendent was lucky. He was given an allowance to keep a horse.