Another entry in March 1896 reads - "Union boys returned today having been away since Oct 17th, with the exception of the 3 weeks after Xmas".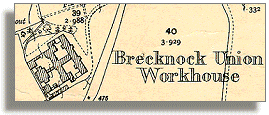 There seem to have been disputes between the school authorities and the Master of the Union Workhouse in Brecon over who was responsible for the education of the children whose very poor parents had to live there.
The girls did not go to school regularly either. An 1891 entry reads "Mr Bircham examined the Registers, and finding that the Union children attended very irregularly, he told Mr Kettle to see that they attended school eighteen hours each week according to the Workhouse regulations".
"The boys from the Brecon Workhouse have not attended this week on account of an outbreak of scarlet fever among the inmates".
11th September 1891
"Four of the Union boys were away 13 times this week. The Managers are writing to the Local Government Board to see if the irregularity is allowable as the Master avers it is".
17th May 1895
Brecon National Boys School