Most Victorian country schools could expect to have family members from the local "Big House" dropping in during lessons at any time. The children would be expected to bow and behave respectfully,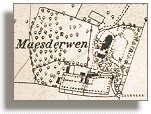 and often had to sing or recite for the visitors.
Few teachers were keen on such interruptions but the local gentry were powerful, so they could not object.
But such families were often generous to their local village school, and most provided 'treats' for the children in the summer and at Christmas.
The Llanfrynach School diary describes a typical 'treat' provided by the de Winton family at Maesderwen in 1867...
"We broke up yesterday, mid-day, for a month, and commenced our holidays by attending the annual treat, very kindly given by H.P.Powell Esq and Mrs Powell, Castle Madog".
Castell Madog School
26th July, 1894