Apart from helping with regular farm jobs like the harvest, many children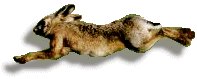 also missed school on market days, Fair days, and during other local events.
One of these attractions was a "coursing" match, when greyhounds or lurchers were set off to chase hares across a field. This was recorded in the Senni School Log Book in 1880, when it was "a new thing" in the district...
I'm getting out of here !
Can't stand those Senni boys.