The water was pumped into it from the river and then fed around the town through pipes. Because it was open, dirt and leaves blew into it and the river water itself was often muddy and full of debris.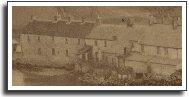 A further problem was that of sewerage. Many houses in Brecon shared toilets which emptied into the river or canal. Some drained into open pits which were emptied for manure every now and again. These conditions too would help to spread disease.
Cholera was a disease which first came to Britain just before Victoria came to the throne. In the years which followed there were deadly outbreaks in many cities and minor outbreaks in Brecon.
In 1854 a much more serious outbreak hit the town...