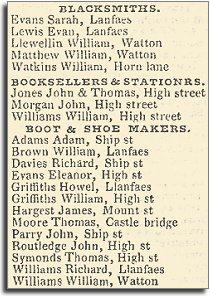 In this entry we can see the blacksmiths of the town. They were very important throughout the Victorian period as they made and repaired tools for the home, workshop and farm. Many of them were farriers too. These were the craftsmen who made and fitted horseshoes on the thousands of horses at work in Victorian Britain.
(Notice that one of the blacksmiths is a woman. This was unusual in Victorian times)


Boots and shoes were made locally in Victorian times whereas now a great many of our shoes are made in another country and imported. Most working men and women wore hobnailed boots which could be repaired by the local shoe maker or cobbler.