The edge of the valleys
The Upper Swansea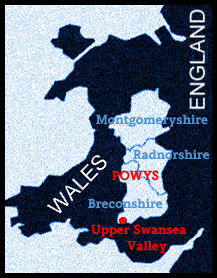 Valley lies at the southern extremity of the 2000 square miles covered by the county of Powys. While the northern edge of the county touches the foothills of Snowdonia, the southern border is close to the industrial centres of the valleys.
Most of the Breconshire part of the Swansea valley lies in the old parish of Ystradgynlais, once an agricultural area of about 12,000 acres. It is uncertain when coalmining first began in the valley but iron was made at the Ynysdedwyn Iron Works at least as long ago as the early eighteenth century.
The presence of coal and iron ore in the locality offered up possibilities but with the development of David Thomas' hot-blast furnace, which used local anthracite, the industrialisation of the valley proceeded with great pace. The workers for these new industries were housed in the small communities springing up along the valley.