Navvies at
the Elan Valley
site during
the dams scheme
Radnorshire
Museum,
Llandrindod Wells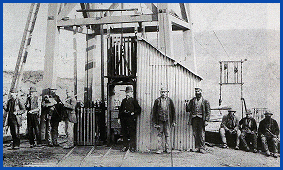 Though the conditions for the men were very good for the time, it was still rough and often dangerous work. The strict rules on safety at work which are universal today were yet to come, and there were many casualties from the use of dynamite, railway accidents, chiselling stone without eye protection, and even from drowning in the reservoirs. The accident hospital in the navvies village below the Caban Coch dam site was never short of patients.
Many of the labourers lived in the temporary wooden village. At the recreation room in the village writing classes for the men were provided on Sunday afternoons. This was to encourage the navvies, most of them living far from home, to keep in touch with their families and friends.
During the years of the waterworks scheme it was not uncommon for workers to be killed in accidents without their identities being known. Many travelling labourers used false names or were known by nicknames, and the authorities would then be unable to notify relatives about their deaths.
In the event of the death of a married workman while employed in the Elan Valley works, his wife would be compensated with about three months wages. She (and in many cases, her children) would, however, have to leave the accommodation provided in the village and would have a very uncertain future despite the Birmingham Corporation's relatively generous compensation.