A beautiful setting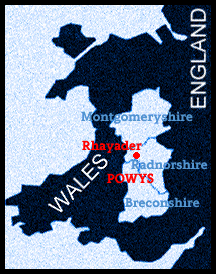 The small market town of Rhayader, in the north-west of the ancient county of Radnorshire, is the first town on the banks of the River Wye. It has long been a vital centre for the farming community with its flourishing livestock market serving a large rural area.
It also lies at the crossroads of important routes from south to north and east to west through central Wales.
This little town is best known for its location at the edge of the beautiful 'Lake District' of Wales, centred on the Elan Valley to the west of Rhayader.