The wall
which carried
the pipe
bringing water
to the wheel
Photographs by
kind permission of
Mr Richard Tucker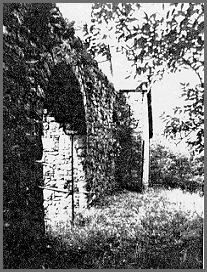 The mill itself was a three storey stone building about 45ft long by 34ft wide, with an 8ft wide wheelhouse on the northern end of the building.
The water from the leat was carried into the wheelhouse through a 15 inch pipe carried on a twelve foot high wall, with an arch to allow access to the garden.
There was also a drying kiln, now converted to a shed.