An early tramway
being used to
carry limestone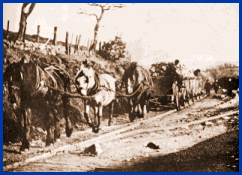 There are no known photographs of the Hay tramway in operation, even though it was in use until the steam railway took over in 1864.
The early photograph shown here is of a similar tramway in use to carry limestone, and gives some idea of the way in which the Hay system would have operated.
The rails were made of lengths of 'L' shaped cast iron mounted on stone sleepers. The vertical faces of the rails were on the outside to guide the flat wheels of the trams or wagons, unlike the flanged wheels used on railways today.
The Hay tramway ran eastwards from Brecon to Talyllyn, where it passed through the second oldest tramway tunnel in Britain. From there it headed north to Talgarth and then north-east to Glasbury and on to Hay. By 1818 the tramway had been extended further west into Hereford at Eardisley, having crossed the River Wye by a wooden bridge at Whitney. The total length of the route by then was over 25 miles, a considerable distance for such heavy loads pulled by horses, though as with early coaches there was a stop on the route to change horses.
There are 4 pages on the Hay Tramway. Use the box links below to view the other pages.