A servant of King Henry VIII
John Price served as Notary Public, the king's principal register in causes ecclesiastical, and as Secretary of the Council in Wales and the Marches. By 1530 he was one of Thomas Cromwell's officials and so gained employment in the king's service. He was a servitor at the wedding of Henry VIII (below) and Anne Boleyn.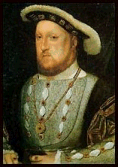 At the time of the Dissolution he was appointed a one of the commissioners charged with visiting religious houses and finding good cause for their dissolution. He is known to have been mild in his condemnation of some houses and to have particularly praised the educational work of some convents. He nevertheless used his position to gain leases of ecclesiastical property including Brecon Priory in 1537-38 where he lived enjoying the priory's library, until he purchased St.Guthlac's Priory in Hereford and took up residence there some time after 1540. In that year he was made Secretary of the affairs of the Crown in Wales and the Marches, which office he held until his death.
He was sheriff for Breconshire in 1543 and Herefordshire in 1554; MP for Hereford in 1553 and for Ludlow in 1554. He was knighted following the coronation of Edward VI in 1547.
A noted humanist and disciple of Erasmus, he was responsible for the first book to be printed in Welsh, Yn y Lhyvyr hwnn, of 1546/7. This was in the nature of an instruction manual to the ordinary priesthood of Wales, who Price felt were deficient in their duties to their parishioners.