Early life
John Penry was the son of Meredith Penry, a farmer of some substance, and was born at Cefn Brith (pictured below) on the slopes of Mynydd Eppynt in the parish of Llangamarch. It is likely that he was brought up in the Roman Catholic tradition, since the people of the remoter parts of rural Wales were slow to accept the new breakaway Church of England.
He attended Peterhouse, Cambridge from 1580 to 1584, coming into contact with Protestant ideas and influences. He then went on to Oxford and was awarded his MA in 1586. He is known to have bemoan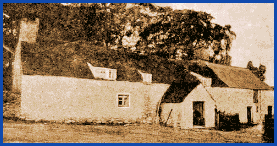 ed the state of pastoral care of the Church in his home country where many incumbents could not speak Welsh and congregations were shrinking. He gained a reputation in Wales for his skill as a preacher, being known as Telyn Cymru (the Welsh Harp).
The struggle for reform
Penry pleaded with the church authorities to improve matters, and even petitioned the Queen. In 1587 he published a book entitled "A Treatise containing the Aequity of an Humble Supplication" which put forward his grievances against the church, and called for more preaching in Welsh by men - even laymen - of good character. The work was presented in Parliament, and although it did not challenge the authority of the bishops he was arrested on the orders of Archbishop Whitgift, though later released. In 1588 he became involved with Robert Waldegrave's secret printing press producing two further titles of his own in 1588. These were fiercely denounced by the Church of England which saw any attack on the established church as treason. Penry was forced to keep on the move to avoid arrest and the press itself operated from several sites around London, and at Fawsley and Coventry.
Penry is thought to have been involved in the publication of the "Marprelate Tracts" denouncing the immorality of the bishops, which the church was even more anxious to suppress. Waldegrave split with the press, which was taken over by John Hodgkins and moved to Wolston Priory and then Warrington..
In 1589 Hodgkins was taken and tortured by church officers, and Penry fled to Scotland where he published further works defending the Scots church against attacks from Richard Bancroft.
Betrayal and death
By the time he left the relative safety of Scotland in 1592 he had moved away from Presbyterian beliefs and moved towards a separatist stance. In London he joined the Separatists under Henry Barrow, being responsible for a congregation of his own which met in secret, often in the open air, risking arrest and execution. He himself was betrayed by the vicar of Stepney and arrested in March 1592/3. Despite protestations of loyalty to his Queen and his country and a personal interview with Lord Burghley he was condemned to death and was executed on 29 May 1593 at St Thomas a Watering.
Although described by later historians of dissent as "the morning star of Protestant nonconformity in Wales" his influence at the time was limited. He was probably, however, the first puritan preacher in Wales.